Class Handicapping
My book, Speed And Class Handicapping is for sale and in stock.
The Consistent Number System: Simple and efficient, the Consistent Number speed handicapping system for thoroughbred racing was developed specifically for using the Brisnet race summary in its Ultimate Past Performances. You can also adapt the method to any past performances if you don't want to use Brisnet past performances. This method shows you how to spot races that are the most playable, and how to use Speed Figures and class handicapping to win consistently. Forget about all the complex handicapping theories, you won't need them. Anyone who uses the system in this book will win more consistently and have a higher R.O.I. than most bettors. And, you can handicap a card in less time, and spot the playable races.

The book is well illustrated with many examples that show you exactly how to use the system. This is a system that can be used by experienced or novice handicappers. The problem with most handicapping books, they give you a lot of information, but how do you put it all together? This book cuts to the chase. The speed ratings are all you really need, if you know how to make sure that your horse has enough class for the field. Those of you who've read my book, "Pace Handicapping Longshots," or have my Diamond System computer handicapping method, know that I have a lot of respect for pace handicapping. You can certainly use pace figures and pace handicapping to supplement the methods in this book. And, in the book I show you how to combine speed, pace, and class. But, speed figures are the most definitive win indicator. In this book, I show you how to get the most out of the figures. Many bettors make the mistake of putting too much emphasis on the horse's last speed figure. Many times, this is the figure that points to underlays (horses that are over bet). The Consistent Number System shows you how to use speed figures to spot value plays that will make you a consistent winner.
This book will show you a more efficient and effective way to use the speed figures that are published in the past performances. A lot has been written about speed handicapping, but it's always the same theory, and almost everyone is betting on the same horse, which usually ends up the favorite and loses 67% of the time. This book shows you the smart and profitable way to use speed figures. And, as a bonus, it breaks down class handicapping as well.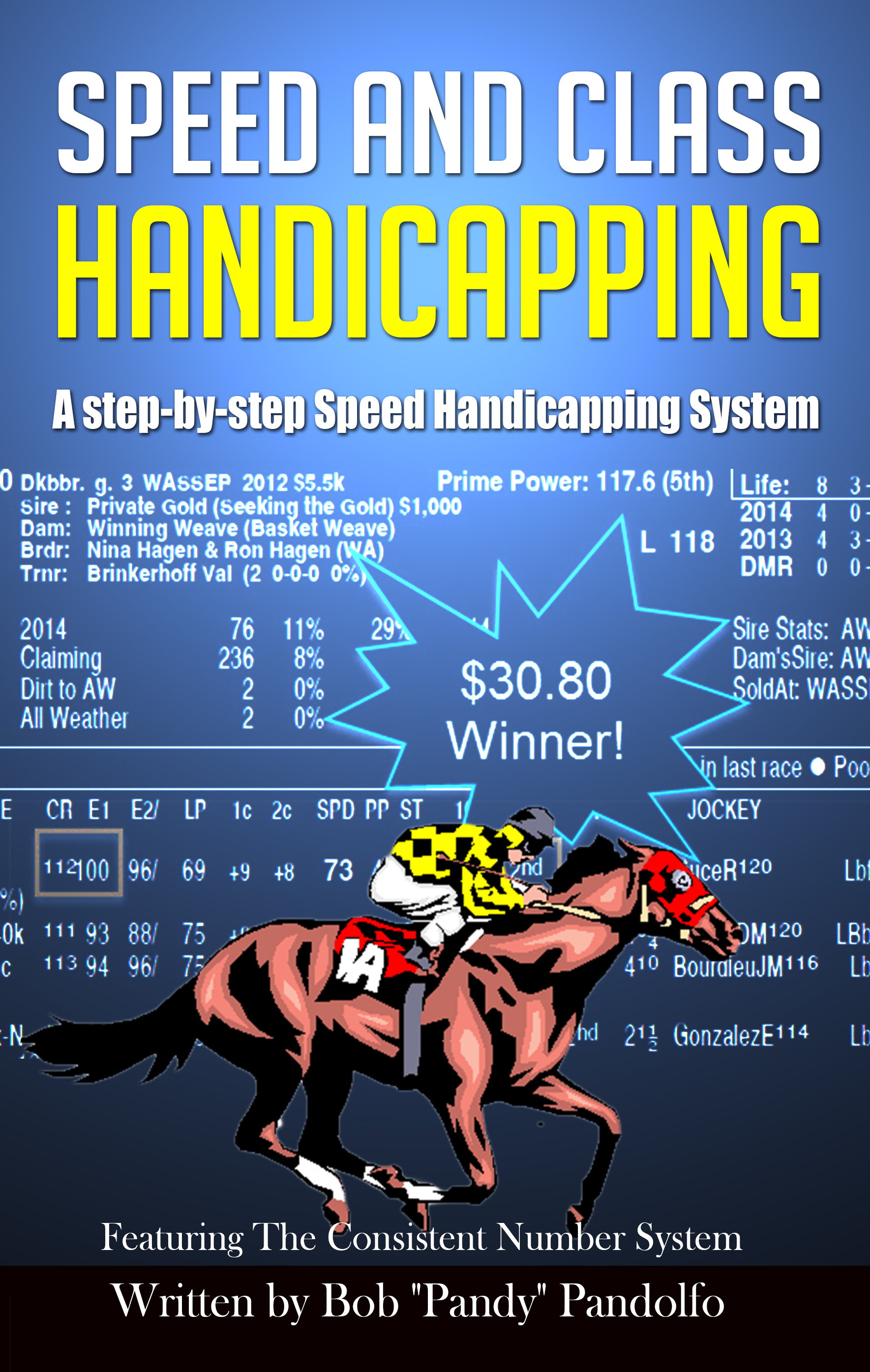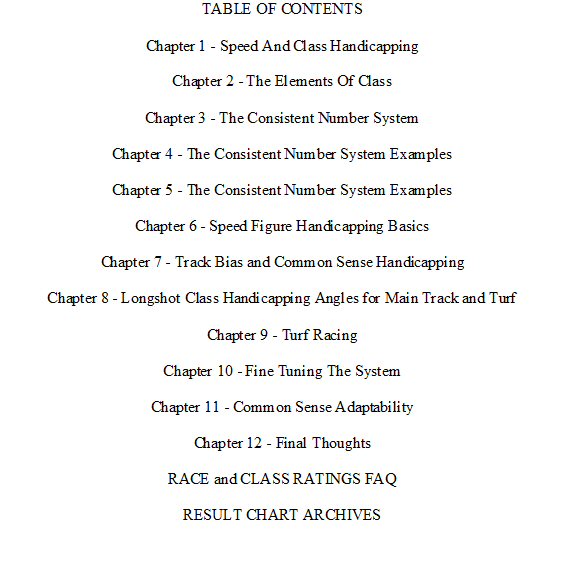 Track Class Ratings
Here are my class ratings for the major racetracks. You can use these to help rate shippers in conjunction with the methods in my Speed And Class Handicapping Book. It is preferred to play shippers from a track that is from either the same or higher class. The difference in track class can be deducted from the speed figures. For instance, if a horse ships to Belmont from Pimlico, I would deduct 3 points off each speed figure.
GRADE 1 TRACKS
AQUEDUCT INNER - 8
AQUEDUCT MAIN - 10
BELMONT - 10
CHURCHIL DOWNS - 9
DEL MAR - 10
GULFSTREAM - 10
KEENELAND - 10
LOS ALAMITOS Thoroughbred -8
SANTA ANITA - 10
SARATOGA - 10
GRADE 2 TRACKS
ARLINGTON - 7
ATLANTIC CITY - 7
CALDER - 7
DELAWARE - 7
FAIR GROUNDS - 7
GOLDEN GATE - 7
LAUREL - 7
MEADOWLANDS - 7
MONMOUTH - 7
OAKLAWN - 7
PARX - 7
PIMLICO - 7
PRESQUE ISLE DOWNS - 7
TAMPA BAY - 7
WOODBINE - 7
GRADE 3 TRACKS
EMERALD DOWNS - 5
EVANGELINE - 5
LOUISIANA DOWNS - 5
MOUNTAINEER - 5
SUFFOLK DOWNS - 5
TURFWAY PARK - 5
FINGER LAKES - 5
PENN NATIONAL - 5
SUFFOLK DOWNS - 5
If the track is not on this list, we'll call it a 4. The points represent the approximate lengths a horse has to make up when shipping. For instance, a horse that races competitively at Gulfstream should be able to win by about 4 lengths if it ships to a comparable class level at a grade 3 track.
The different between Grade 1 and Grade 2 tracks is not dramatic. However, the difference between Grade 1 and Grade 3 or below is substantial. Horses that go from a Grade 2 track to a track that is not graded has an edge.
THE CLASS FACTOR IN HANDICAPPING
Depending on the distance and surface, my handicapping often comes down to either "pace handicapping" or "class handicapping." In route races and in turf races, the emphasis is on Class and closing power, or what I call "Kick".
CLASS: this is the toughest handicapping factor to explain. But the bottom line is, some horses have a "touch of class" which is inherent and this desire to compete often gives them the edge they need to win their fair share of races.
KICK: Late speed is a potent handicapping factor, especially in route races, and in most turf races. My Diamond System computer handicapping method includes some ratings from an older system I developed called The Formula. One of the ratings is Formula Kick. This rating is "the higher the better" and is computed from the 4 furlong (half mile) call. So, in a one mile race, the Kick rating is calculated by the horse's last 4 furlongs or last half. In a 10 furlong race, such as the Kentucky Derby, the Kick rating is calculated based on the horse's last 6 furlongs (or three quarters).
The reason why I like Kick is that it shows you which horses have "sustained" speed. Some people use last quarters to measure late speed. There's nothing wrong with that, but I think that my Kick rating is better because the classiest closers are horses that can mount a sustained closing bid. The greatest closer was Zenyatta. Her stretch kick and final quarters were blazingly fast. But, she also made up a chunk of ground on the final turn so she could get into position to mount that powerful stretch finish. Zenyatta had "sustained" closing energy.
ENERGY: My Diamond Ratings also show an energy rating, DI EG or Diamond Energy. The horse with the highest number has the most energy left for the finish. These numbers also help define class, especially in route races and turf races.
My new book, SPEED AND CLASS HANDICAPPING, shows how to incorporate Speed, Class, and Kick into your handicapping.
I'd like to show some examples of how you can use Formula Kick and some of the other ratings from the Diamond System when handicapping route races and turf races. Below is an example of a turf route at Belmont Park.
Belmont, 8th race, October 12, 2012
Belmont, 5th race, October 14, 2012
Copyright Pandymonium Publications.
For problems or questions regarding this web contact
[pandyspicks@yahoo.com].
Last updated: February 22, 2013.