NOTE - If you are using The Diamond System, please email me for a free update...I have two files you can add to your Diamond folder that will update the program for BAQ and the Gulfstream Synthetic
THE DIAMOND SYSTEM METHODOLOGY (computer handicapping program)
Note: To view video examples of how to use the Diamond System, go to my youtube page and click on this link https://www.youtube.com/user/rpandolfo/videos then scroll down and start at race 1 for Mountaineer
The Diamond System is a computer handicapping system that we developed. It is essentially a "pace balanced" system that gives the user several ratings including The Diamond Rating. The Diamond Rating takes a horses early speed, late speed, and final time and balances it out into one number. The strength of the system is it's amazing ability to pick longshot winners, right on top. The reason why it can pick so many overlay and longshot winners is that it balances the pace of the race. For instance, say a horse goes fast early but loses by 10 lengths. Using traditional Speed Figures, this horse will look like it declined, and speed handicappers will dismiss it because they are looking at the final time figure. But, depending on the pace of the race, the Diamond System may reward this horse for its early energy expenditure and rank it right on top.
But it doesn't just balance early pace. Horses that run fast late are also rewarded. The way the Diamond Rating is calculated, early speed takes preference over late speed, but late speed is counted, which is one of the main reasons why the rating is better than typical pace ratings.
The system comes with several other ratings, such as Diamond Pace (early speed). On the printouts, which can be viewed on screen or printed, we also give you our Formula Ratings. The Formula was an older system of mine. The best Formula rating is Formula Kick, which points out the best closers. I prefer to see a horse's sustained energy, so Formula Kick is not based on final quarters, it creates a rating based on a horse's time after 4 furlongs have run. So in a mile it rates the horse's final half.
To use the system, all you need is either Trackmaster exe files, or Brisnet multi-data files. There are two versions available. The system sells for $117.97 and that includes free priority shipping and a 30 day money back guarantee (less $5.00 restocking fee). We also offer excellent customer service through email or phone. We fully support the system. Upgrades are $22 and we usually have an upgrade each year for pars and improvements.
There are a few different options for AUTOMATIC PACELINE selections. Option T gives you one rating for each horse based on the horse's best recent race. You can also print a consensus box which ranks the top 3 in several categories, such as Early Speed, Late Speed, Diamond Rating, etc.
SAMPLE OF DIAMOND SYSTEM PRINTOUTS
In the printout below, which was from Saturday, May 12, 2012 at Betfair Hollywood Park, the top pick Bella Marino won and paid $46.00. The third pick, One Lucky Lady, ran second and the exacta paid a whopping $1249.00.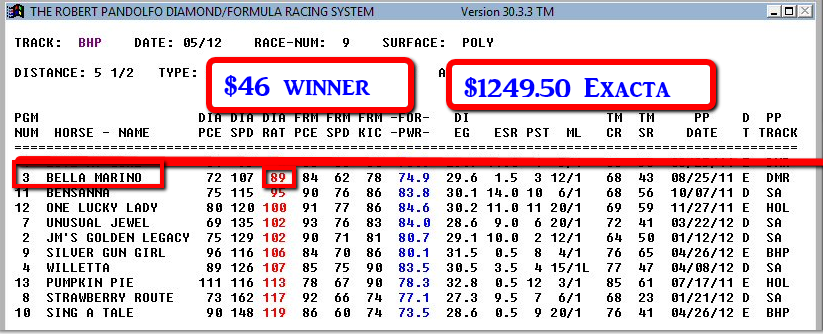 This printout is from the 6th race at Belmont on May 31, 2010. The Diamond Rating is the 3rd rating from the left and the lower the better. Here you can see that Auric Girl had a DR of 87, the lowest in the race. She was also ranked 1st in every category, Diamond pace, Diamond Speed, Diamond Rating. With the Formula Ratings, the higher the better, and she was also ranked 1st in all three Formula ratings including the important Kick Rating which is a powerful rating for turf races like this. The 7-3 exacta paid $560.00!
It is not uncommon for The Diamond System to pick $84 winners like this right on top. In fact, over the years it has picked many horses that paid between $40 and $100 to win.
Ratings from left to right, DIAMOND PACE, DIAMOND SPEED, DIAMOND RATING, FORMULA PACE, FORMULA SPEED, FORMULA KICK, FORMULA POWER, DIAMOND ENERGY. Horses are ranked by Diamond Rating, the lower the better. With the Formula ratings (4th, 5th, 6th, and 7th columns from left to right), the higher the better. The Formula was an older system that we developed.

Race:
6
Win
Place
Show
1st
7
Auric Girl
84.50
25.80
11.40
2nd
3
Officer Flirt
9.80
5.30
3rd
1
Kiss of Fire
3.80
4th
6
Smarty Sister
$2 D/Double
4/7
172.50
$2 Exacta
7-3
560.00
This race was from Hollywood Park on Saturday, July 10. This is a turf race. Living Word had a Diamond Rating of 80, a 10 point advantage, which is a big advantage. He won and paid $159.20. He was ranked 1st in all 3 Diamond Categories.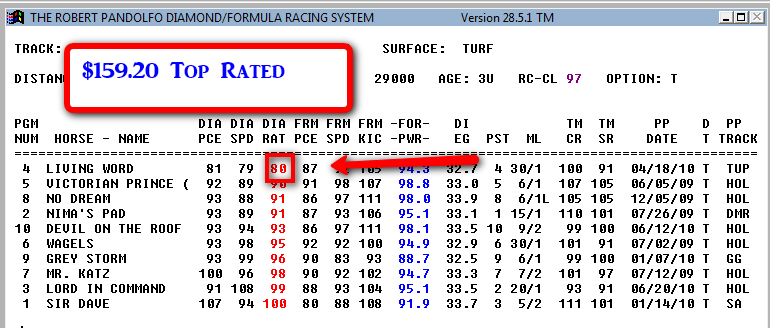 Race:
5
Win
Place
Show
1st
4
Living Word
159.20
64.80
21.40
2nd
2
Nima's Pad
37.00
13.60
3rd
7
Mr. Katz
4.40
4th
1
Sir Dave
Diamond System explanation
The Diamond System is a pace-balanced method that I created around 1996. It was time consuming by hand so we put it into a computer system a few years later. Over the years we've tweaked it every year and added more features. Below we see the printout for the 2011 Preakness. This was the printout using Option T, which is the automatic paceline option that I prefer the most. There are several ways to run the system. You can also pick your own paceline. Option T chooses each horse's best race in its last 3 on the same surface and an appropriate distance. As you can see, in this case Shackleford came out on top. Shackleford paid $27.20.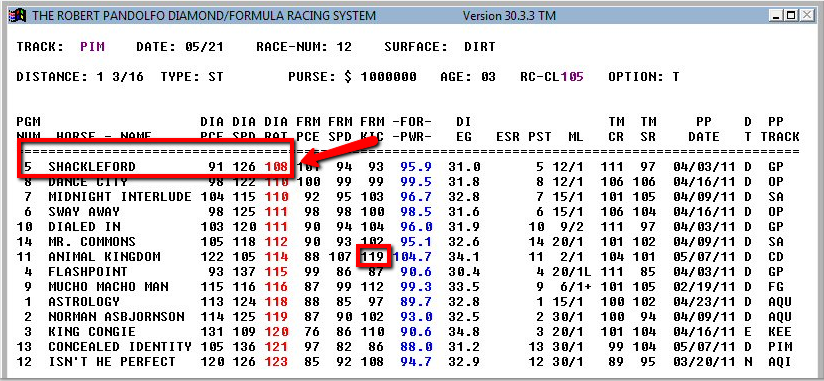 From left to right, Dia Pce is Diamond Pace. Diamond Pace is a pace rating for early speed. For the three Diamond Ratings, the lower the better. The middle rating Dia Spd is Diamond Speed. This rating takes final time and final quarter into consideration. Dia Rat is short for Diamond Rating, and this is the the actual Diamond Rating. The horse with the best Diamond Rating is ranked on top. This rating is an average of the first two ratings. It is a perfectly balanced rating because it averages out a horses early speed, late speed, and final time. All ratings are calculated using track variants and adjustments for shippers are done automatically, as our adjustments for distance changes.
The next 4 ratings are Formula ratings. This was an older system I created which was more like speed figures, the higher the better. Formula Pace is a pace rating, Formula Speed is a speed rating, Formula Kick is late speed, and Formula Power is an average of the other ratings. The best Formula rating is the Kick Rating, which is very good for route races, and all turf races, or any race which figures to have a hot pace. In the Preakness Printout above, you can see that Animal Kingdom had a huge Kick Rating of 119, clearly the best in the race, and also had a big Power Rating. Animal Kingdom finished 2nd to Shackleford and the exacta paid $114.80.
Di Eg is Diamond Energy. Some of you may be familiar with Median Energy, which was part of the Sartin Methodology. I got the idea for Diamond Energy from that, but my rating is better. With Diamond Energy, the higher the rating, the stronger a horse finishes. Basically, it's the amount of energy that the horse will have left for the finish. This is a very interesting rating, and quite frankly, the energy concept has been crucial to my overall success as a handicapper. It's difficult for me to explain this without taking up a ton of space. I'm writing a book on handicapping and I will go into great detail about energy in that book.
Let me just give you some basic ideas I have about this rating. First of all, in Tom Brohamer's book, Modern Pace Handicapping, he writes about "modeling" a track for an energy profile. To do this you actually have to model each distance. For example, at each distance at each track, there is a preferred energy rating. For instance, I've found that at many tracks, most 6 furlong races are won by a horse that has an energy rating between 30 and 31. As the distances increase, the average energy of the winner gets higher. This makes perfect sense because most route races are won by sustained type horses that can finish well.
But, in sprint races, many longshots win that have a lower than "ideal" Diamond Energy. I find this fascinating because it completely blows several traditional handicapping theories out the window. For instance, there are scores of "speed" handicappers who believe that a horse has to have one of the best speed ratings in order to be a contender. There are others who believe that a horse has to be one of the classiest in the race, with lots of earnings. But I can tell you that many longshot winners with subpar speed ratings and modest earnings win and they are actually not very difficult to come up with if you understand pace and energy. For more on this read some of my comments on the ESR page.
ESR is Early Speed Rating, the higher the better. This is new for 2011. I actually created this rating in 2009 as part of a system called The Wire To Window Longshot Spot Play System, which I sell for a bargain price of $29.99. It's a paper and pen system. New this year we added the basic raw ESR rating to the Diamond System. For the Preakness, no horse has an ESR rating because it is based on very sharp early speed and these horses come out of route races. I am really high on this rating which I believe is the most sophisticated early speed rating ever created. Some of you may have heard of Quirin Speed Points. Bill Quirin created speed points in his excellent handicapping books. Speed points give a number to horses based on position. For instance, a horse that has the lead at every call will get a high speed points. In his excellent book, The Power of Early Speed, Steve Klein created his own style of speed points.
The ESR is my version. But I assure you that the ESR is a much better rating. I have never liked speed points because they were flawed. They were based solely on position, not time. A pace rating, on the other hand, is based solely on time. So, let's say that in the same race you have a horse that went :44.2 to the half in its last race and it earned the best pace rating, but it did not have the lead. In the same race, another horse lead at every call but through slower fractions. Well, one horse will have the best pace rating, the other horse will have the best speed points; confusing and not very helpful.
I created my own formula which uses both time and position! Why didn't anyone else think of this? Not only that, I used first and second call. The problem with most pace ratings is that they are based on the half (4 furlongs) in sprints. But the first quarter is actually more important. Klein proved that in his book. Check out the ESR page on this site for more info about this dynamic rating. To view ESR printouts click on http://www.handicappingwinners.com/esr.htm
PST is the post position, ML is the morning line, TM CR is Trackmaster Class Ratings (which are very good, much better than most people realize), TM SR is Trackmaster's Speed Ratings, PP Date is the date of the paceline, DT means that it was either dirt or turf, and PP Track is the track that the horse raced at for the paceline that was chosen.
If you look at Mucho Macho Man, you will see that there is a + symbol next to his 6/1 morning line odds. Also, Flashpoint has an L next to its odds. These symbols are Historic Value Indicators generated by Trackmaster's software and they are excellent. Here is an explanation:
Historic Value Indicators

TrackMaster has added historic value indicators to the Snapshot/Power category. These symbols (+, L and B) will allow quick identification of those situations which have historically shown to produce a positive long-term profit. The "+" symbol next to the morning line odds means that the power rating margin table displays a positive historical profit. Remember, this table indicates profit based on both post time odds and the power rating difference between the two top power rated horses. This "+" indication simply saves the step of going to the table. Since we cannot predict post time odds, we use the morning line to approximate the post time odds. The "L" symbol denotes a potentially valuable long shot play, defined as post time odds of 8-1 or greater. "L" plays are based on computer analysis of various "angles" which have produced long-term positive profits. It is important to understand that these indicators are based on maximizing profit rather than percentage of races won. Results from the many tracks TrackMaster supports reflect a win percentage only near 10%. The "B" symbol indicates both the "+" and "L" conditions apply. When using these symbols or the tables in the Snapshot/Power category, remember that they are based on a historical look at the success of power ratings under specific conditions. History may not repeat itself. As always, we do not recommend using power ratings alone. Though it is believed that power ratings reflect key statistics, we encourage you to use them in combination with the rest of the valuable information available.
To view more Diamond System Printouts click on www.handicappingwinners.com/printouts.htm
Copyright Pandymonium Publications.
For problems or questions regarding this web contact
pando4444@gmail.com
Last updated: May 10, 2022