FORMULA PRO VERSION 4.4 - Pandy's ALL NEW COMPUTER HANDICAPPING SYSTEM
FORMULA PRO is my newest handicapping software system. There are a few similarities between this and REAL TIME. Those of you who purchased Real Time can upgrade to this, but don't delete your Real Time. This will work alongside it. The ratings that are the same as Real Time are Stamina, which is the same as Total Power in Real Time, Class, which is the same as Class in Real Time, Pace, which is the same as Total Pace in Real Time, and Average Speed, which is the same as Average Speed in Real Time.
These ratings all work well and are based on an average of three races on the same type of surface, either the main track (dirt or synthetic), or turf. Again, all ratings are based on an average of each horse's three best races in last 5 starts.
I wanted to add some ratings to try and find some more longshots and exotic fill-in horses so I added five new ratings, Ability, Jockey-Trainer, Race-Distance, Form, and Fraction.
Ability - this is a combination of Power Prime and T Average from Real Time. It's a good overall predictive rating. Basically this is Real Time's Total Power added to Brisnet Prime Power added to Total Average, which is an average of all of the ratings in the Real Time software.
Stamina - This is Average Speed plus Average Late Pace.
Class - Averages the purse for the last six starts.
Jockey-Trainer - This is the average win percentage of today's Jockey and Trainer combined into one average.
Race-Distance - This is the average in-the-money finishes of the horse at a similar distance. So if today's race is a sprint, it's an average of the horse's in the money finishes in sprints. It gives you an idea of the horse's consistency and competitiveness in this type of race.
Form - This rating tries to show horses that have better recent "shape" or form. I didn't create this formula just to spot the obvious in-form horse. When developing these systems and ratings, if every rating is "predictive", then you end up with ratings that only pick the obvious favorites. I like to have a series of ratings that give me a unique look at the contenders and potential longshots. Every rating can't be purely predictive. This rating is based on the last 60 days. Horses earn points for running within 5 points of the Bris par at least once and then there are also points assigned for recent activity including workouts and races.
Pace - This combines Average Speed, Average Pace and Average Quirin Speed Points into one Total Pace figure.
Fraction - This ratings is also based on an average of three races. We compute the horse's actual time at the first and second calls and then average the three.
Average Speed - This is the horse's Average Bris Speed Figure based on it's best three races in it's last five starts.
How to use Formula Pro - The system runs with Brisnet single data files. Two of my other programs, Power Pace, and Real Time, use the same type of file. You can purchase the files from www.brisnet.com. Once you download the file you want (Track name and date), you extract the files to a folder. The file bomes a drf file when extracted. I simply create a desktop folder called Formula Pro. It's easy to use. Then you click on Open Race File, you simply pull the file in by clicking on the Open Race File button.
You can sort on any of the individual headings. I recommend Pace for sprints and Stamina for routes but ratings like Ability and Average Speed are the most predictive for picking winners. Ability is the most predictive. Average Speed would be second most predictive. In other words, if a horse is ranked 1st on Ability and first on Average Speed, that's the horse with the best channce of winning the race. But, I sort on Pace for sprints and Stamina for routes because I'm looking for more value. However, since Average Speed is based on three races, sometimes the top ranked Average Speed can be a price play.
You can also sort on any of the ratings and then click on Rankings and it will rank each horse from 1 on up in each category. I'll have examples on this page and I'm going to have quite a few videos showing how the program did in entire race cards. There are two print options.
The program is $44.50 and only comes through direct download using either dropbox.com or Google Drive through email. Usually one or both of these work with everyone who is running Windows. But there are also other ways to send the program, free file sharing sites, we can use to send it. Like all of my handicapping products, you'll receive directions on how to use it and you can email or call me if you have any problems or questions.
I'll be posting several videos on how I used the program to handicap entire cards and certain races.
The ratings like Fraction, Class, Form, etc., are all helpful when trying to fill in the missing blanks in exotic plays. Again, I'll show examples of how to use these ratings to put together tickets.
Parx, Monday, February 6, 2023. Click on the YouTube link below to view my YouTube video showing how Formula Pro and Power Pace computer handicapping programs picked the COLD $114.40 exacta and also handicapped the entire card at Parx.

Belmont at Aqueduct, Sunday, October 16, 2022 - FORMULA PRO
Here is the 1st race from Aqueduct at Belmont on Sunday, October 16. It was a turf route race so I sorted on Stamina. Here you can see that Calycanthus is ranked 2nd. The top ranked horse, Take Me To Jimmy, went off at 7-5 odds. Obviously, if you were playing Doubles, Pick 3's, etc., even if you are using the most obvious horses like the 4, 6, 7, you would probably want to include the 3 since the horse is ranked 2nd in the preferred sorting rank for turf routes, and is going off at big odds.
Calycanthus won and paid $62.00! By the way, on Power Pace, Calycanthus not only had the third best LATE pace rating, but the 3, 4, and 7 were the only horses in the race with strong Late Pace Ratings. Again, using both systems made it easier to include this live longshot in your exotic plays.

In the 4th race on the same Aqueduct at Belmont card, in a sprint race, FLUID SITUATION is ranked 2nd. King Angelo, the top ranked horse, was 6-5. Again, if you were playing Doubles, Exactas, Pick3's, Pick 4's, etc., it seemed wise to use FLUID SITUATION, who was ranked 2nd on Pace in sprints. Remember that I recommend sorting on Pace in races up to 7 furlongs.
FLUID SITUATION won and paid $48.00 to win. Notice that he was also ranked 2nd in class. If you look at the Power Pace ratings below, you can see that Fluid Situation had a very strong AE2 (Adjusted Second Call Rating) and the a the 2nd ranked ESR.
FORMULA PRO RATINGS

POWER PACE RATINGS

Belmont at Aqueduct, Saturday, October 15, 2022 - FORMULA PRO
Although I recommend certain ways to sort, for instance, PACE in sprints and Stamina in route races, that doesn't mean that you should only concentrate on the top ranked horses. Like any kind of handicapping methodology, you should be on the lookout for potential value plays. In this race from the Belmont at Aqueduct meet, the 3rd race was a 7 furlong sprint. Sorting on Pace, you can see that the top ranked horse is Dangerous Edge, but Colormepazzi is ranked 2nd in Pace, Average Speed, Stamina, and ranked 1st in Fraction, which is a new rating I developed for this method and it is a very good LONGSHOT rating.
Colormepazzi won and paid $33.20. Some of you have probably corresponded with me and know that I like to compare Formula Pro to Power Pace. Below you can see the ratings for Power Pace for the same race and notice that Colormepazzi has the top ESR (Early Speed Rating) and has very good AE2 (Adjusted Second Call Pace). ESR is one of the best longshot ratings I've ever seen and the AE2 ratings are also very good.
FORMULA PRO

POWER PACE

PARX 9th Race, March 7, 2022, sorted by Pace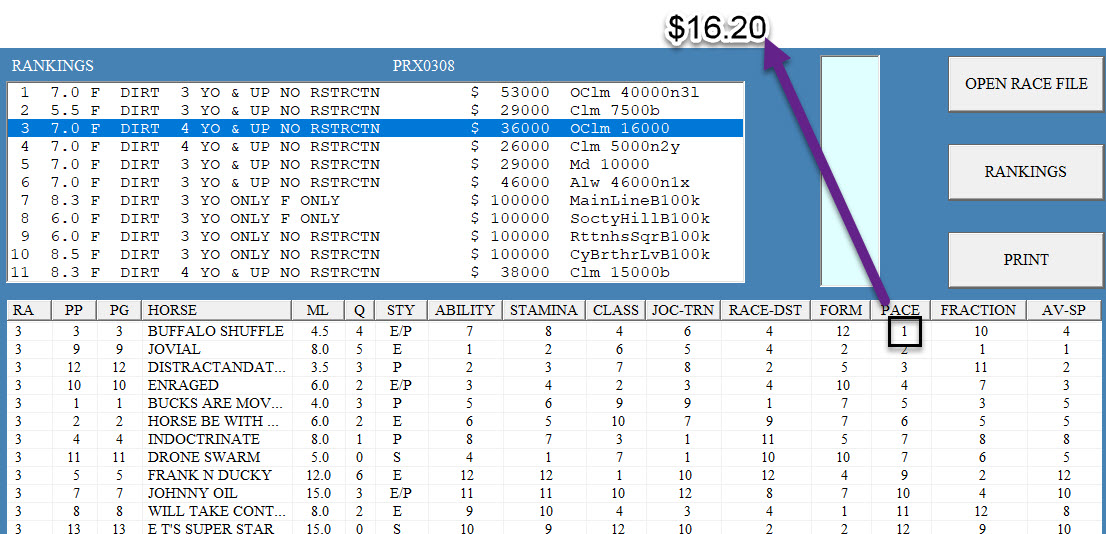 FORMULA PRO V. 4.3
Video Analysis
PARX - Multi race exotic handicapping, Doubles, PIck 3, Pick 4, using Formula Pro at Parx on March 7, 2022. Click on the YouTube link below to watch the video.
https://youtu.be/iDfst5AzajI
AQUEDUCT - How to use Formula Pro to help put together exotic plays like the Daily Double, Pick 3, etc. Click on the YouTube link below to watch the video.
GULFSTREAM - $83.60 Longshot - How to use Formula Pro Stamina on synthetic or turf. Click on the YouTube link below to watch the video.
GULFSTREAM - $32.80 Longshot on synthetic track at Gulfstream. Click on YouTube link below to watch the video.
GULFSTREAM - $55.20 Longshot on synthetic track. Click on YouTube link below to watch the video.
FORMULA PRO EXAMPLES
Tuesday, March 22
In this race at Parx, Liar Side Chat was tied with the 3 horse for top ranked PACE. He stalked the pace and drew clear easily and paid $46.00. These compounded ratings (based on more than one factor), are also based on an average of three races, which gives you a much better idea of a horse's overall ability.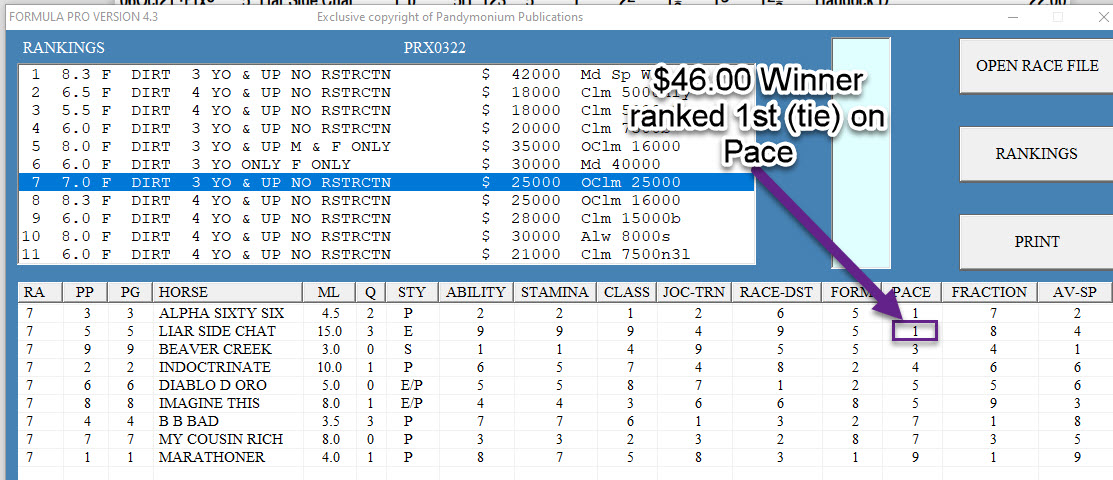 Sharphorses Selection Service
Wednesday, March 9
Wednesday, March 9, I gave out two races, one at Fair Grounds and one at Turf Paradise. The way they show below is the way they were posted yesterday. I have a new software program and I've put the screen shots below to show how they helped me handicap these two races. Right below this is the Fair Grounds race. I have a new rating called Fraction, which averages three races and uses the horses middle-fraction. I wanted to see how fast a horse can run from the first to second call. This is different than a typical "pace" figure, which gives you a rating for the horse "at" the second call. This number actually shows you the horse's actual running time from the first call to the second call. The lower the better. In the top chart you see the actual times of 35.32 and 36.89. The screen shot below that is sorted on rankings, and you can see that the 7 and 3 are ranked 1st and 2nd in FRACTION. The 7-3 exacta paid $913.00 for a $2 exacta!
There were other reasons why I thought the 7 was a live longshot in this race, see my comments in the section below my picks from yesterday. I admit that I did consider using the 3 in exotics but I studied the horse and I decided not use use him based on his Delta Downs form. I loved the 7-1 exacta box in this race but the 3 just held off the 1 for the place. So far the Fraction rating is proving to be a good longshot rating for me, which is what I was looking for.
FORMULA PRO RATINGS

FORMULA PRO RANKINGS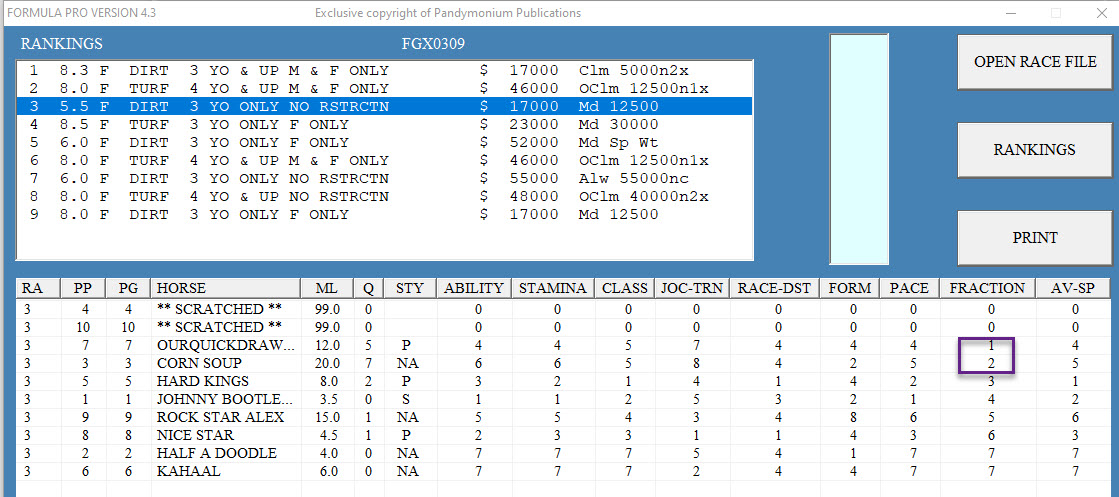 TURF PARADISE, MARCH 9, 2022
Below is the Formula Pro screen view sorted on PACE and RANKINGS. I picked the 2-6 in this race but the 2 horse was scratched. Once the 2 was scratched, the 6, Fiona Bay, should have been the favorite (but wasn't). As you can see, Formula Pro, which is my newest handicapping software system, ranked Fiona Bay 1st in 5 categories. The most predictive categories are Average Speed (AV-SP) and ABILITY. So just being ranked on those two made her the one to beat. I sort sprints on PACE, looking for some value, and here you can see that Fiona Bay was also ranked 1st in Pace, which is extra important at Turf Paradise because speed holds up well there. Fiona Bay also had the best Race-Distance and Stamina Ratings. When a horse has both Stamina and Pace, that's a great sign. Fiona Bay raced off the pace and rallied to win and paid $9.60. I'll be posting several videos about the new Formula Pro system over the weekend.
| | |
| --- | --- |
| | TURF PARADISE |
RACE 4
2 STORM DREAM 6, 5 (2 was scratched, 6 won and paid $9.60)
FORMULA PRO RANKINGS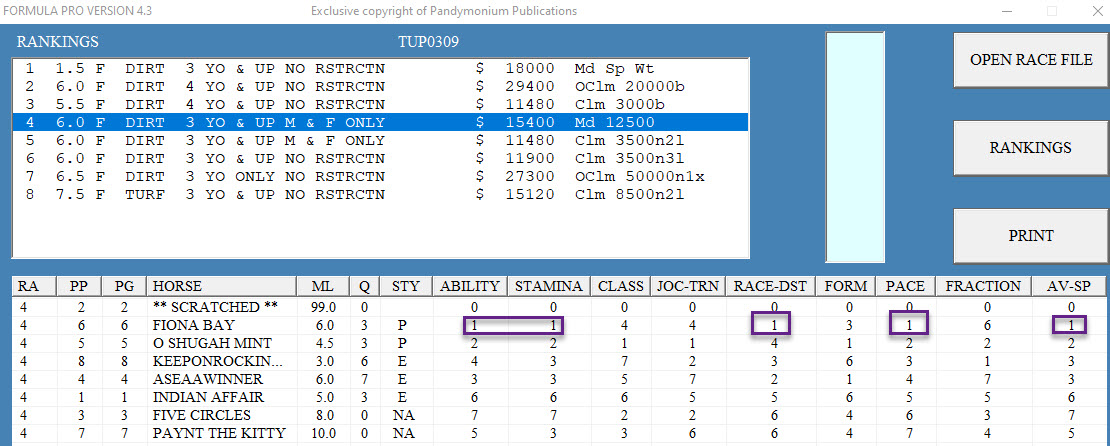 To listen to a video analysis of the $45.60 winner at Aqueduct, click on the YouTube link below.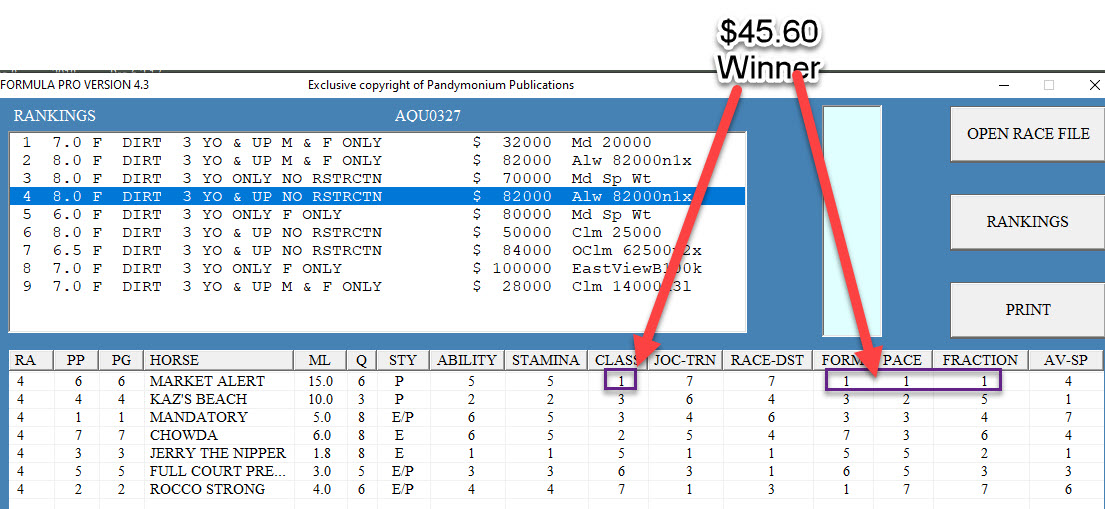 In the race below, which is the 2nd race at Oaklawn on Saturday, April 2, you can see that Overtaxed was ranked 1st in four categories, Stamina, Race Distance, Form, and tied for best Average Speed Figure. On my Power Pace system, which is right below, the horse had by far the best ESR (Early Speed Rating), which is a powerful longshot indicator, especially in sprints. So this horse had good early speed indicators, but was also ranked first on Stamina. To find out more detail, click on the YouTube link just below -
VIDEO LINK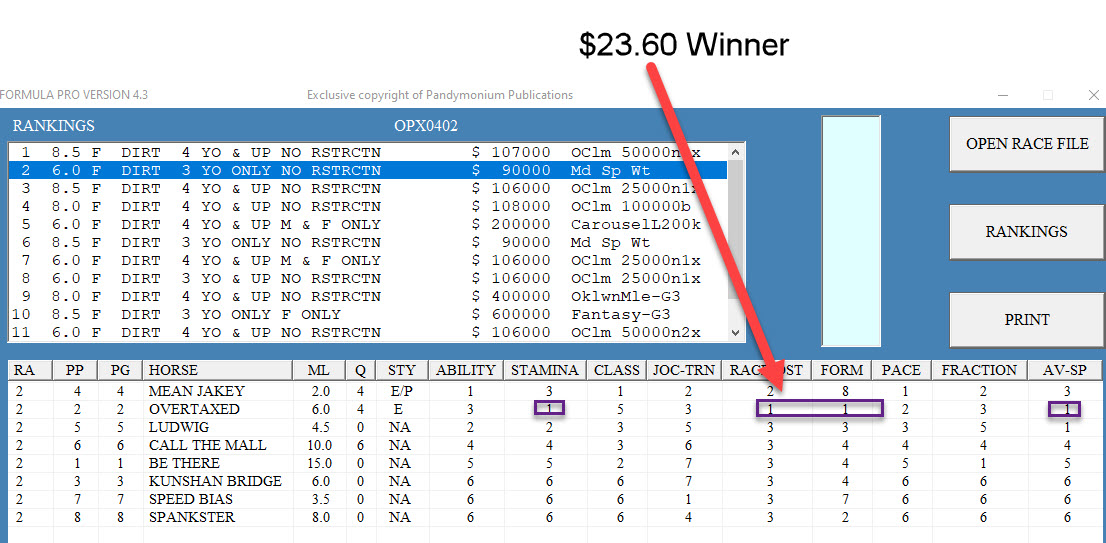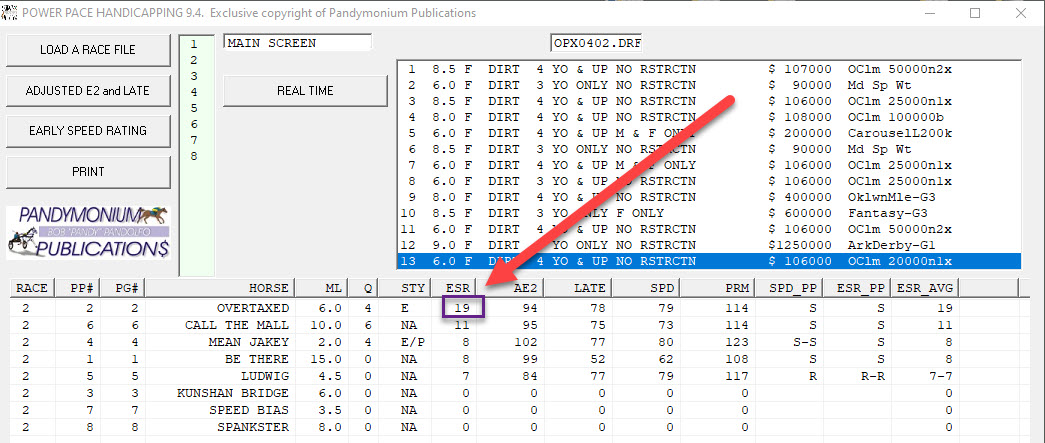 Updated, June 2022