Early Speed Rating--ESR picks big longshot winners!
In May of 2011 we added a new rating to the Diamond System printout and screen view, the ESR rating (Early Speed Rating). This is a rating that I created as a foundation for a paper and pen system called the Wire To Window System.
Some of you may be familiar with Speed Points, which were created by Dr. William Quirin, a math professor who wrote a couple of handicapping books, including the classic, Thoroughbred Handicapping: State of the Art. Although Quirin created Speed Points many years ago, they are still used in countless computer handicapping programs as an aid to evaluate early speed. The idea behind Speed Points was that the more points a horse had the more likely it was to get the early lead. Steve Klein wrote a book about early speed called, The Power of Early Speed, which is by DRF press. In that book Klein created his own formula for Speed Points.
My ESR is a rating that also attempts to pinpoint early speed. I have never been enamored with Speed Points. The problem is, Speed Points are based on position, not time. So, in other words, a horse that has a lot of 1's in its past performances gets high Speed Points. The problem is, if the horse has been running on the lead in slow races, it will have high Speed Points, but may not actually be that fast.
So I created my own rating, which is only for sprint races, where I combined position and actual fractional time. The result is the Early Speed Rating or ESR. This rating is a powerful pace/position rating that will point out huge longshot winners. Here is a recent example.
This horse raced at Prairie Meadows in a maiden race. Notice that Brigem D has by far the best ESR in the field, a whopping 12, which is 7 points higher than the next bet. Brigem D went wire to wire and paid $69.80. The $368 exacta was actually pretty easy, El Borego finished 2nd as the 2nd choice in the betting. Note that he has the L rating, which is Trackmaster's signal that this horse fits a profitable pattern. Also look at the CR, which is the Trackmaster Class Rating, it is 90. The horse was shipping in from a much tougher circuit, Oaklawn. You always have to use these type of shippers in your exotics.

Race:
5
Win
Place
Show
1st
3
Brigem D
69.80
20.00
9.60
2nd
6
El Borrego
5.80
4.80
3rd
5
Quality Action
8.40
4th
2
Hot Town
$2 Exacta
3-6
368.80
$2 Quinella
3-6
99.40
$2 Trifecta
3-6-5
1614.20
$2 Superfecta
3-6-5-2
4804.20
Refunds:
None
The ESR is a rating I introduced last year, it stands for Early Speed Rating. It is a speed point style rating but much better than the original formula. What I did was create time charts for both the first and second calls but the rating does not just rate speed, it also adds points for position. Here you see that I'm Wanted had the highest ESR rating of 11 and paid $14.20. Many ESR horses have won sprints and paid Boxcar prices.

Race:
1
Win
Place
Show
1st
1
I'm Wanted
14.20
7.00
5.20
2nd
5
Mi Preciosa
10.40
7.00
3rd
4
Niccet
3.40
4th
6
Over Served
$2 Exacta
1-5
90.80
$2 Trifecta
1-5-4
359.40
Refunds:
None
The printout below is also from May 2. This race was at Penn National. Ellis Island was tied with She's Excessive for the best ESR of 12 points and wired the field paying $26.40. She's Excessive ran 2nd, the exacta paid $221.00.

Race:
9
Win
Place
Show
1st
2
Ellis Island
26.40
14.20
9.20
2nd
9
She's Excessive
8.80
7.40
3rd
7
She's a Vixen
4.80
4th
3
Jean's Hope
$2 D/Double
7/2
95.20
$2 Exacta
2-9
221.00
$2 Trifecta
2-9-7
737.40
$2 Superfecta
2-9-7-3
31261.00
Refunds:
None
Below you can see that BEPPJ has the best ESR of 12 points in this turf sprint. He won and paid $83.00. Bepp J was tied with Bullet Baby for the best (lowest) Daimond Pace but the ESR for BEPP J was better, and so was the price.

Race:
5
Win
Place
Show
1st
2
Beppj
83.00
15.80
15.20
2nd
3
Simple Exchange
3.50
2.80
3rd
4
Princess Reyana
16.80
4th
9
Bullet Baby
$2 D/Double
8/2
370.50
$2 Exacta
2-3
251.00
$2 Trifecta
2-3-4
4638.00
$2 Superfecta
2-3-4-9
22411.00
Refunds:
11,12
Economic Forecast won by 11 lengths at 9-5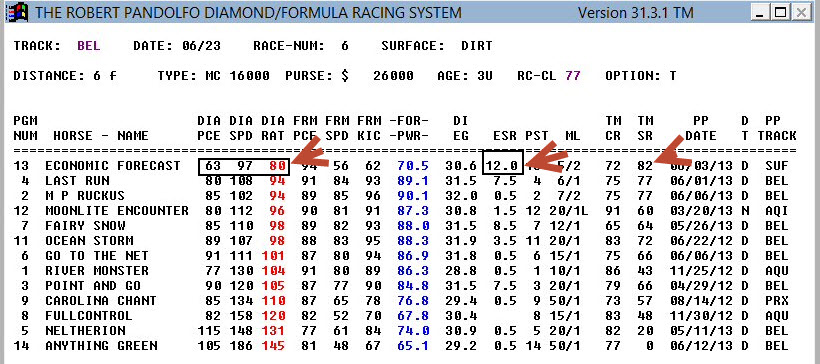 Copyright Pandymonium Publications.
For problems or questions regarding this website contact
pando4444@gmail.com
Last updated: March 2022