More Diamond System Printouts
At the Meadowlands on Saturday, September 23, 2017, in the first race, The Diamond System's top pick (14) was scratched, leaving the top four picks as 2-11-6-8. The trifecta came out 6-8-2-11 and paid $32,215.20 for a $1.00 wager! How's that for a superfecta box?!

The printout below is the Diamond System option T from Sunday, June 4, 2017. This is the 2nd race, which was a turf race. As you can see, the Diamond System not only had the $54 winner right on top, but it picked the exacta, trifecta, and superfecta COLD, all at big numbers.

I often post printouts from the Trackmaster version, but here are two using the Brisnet version, which uses the bris multi data file, which only cost $1.00. A customer emailed me and told me that he hit these two horses, the first weekend he used the system.
Saratoga, Saturday, August 28
Arrogate had only beaten two horses in his previous start and was taking a big step up in class. But he had won 3 of his four career starts, three in a row, and he was the fastest horse in the race (the key word being race). My Diamond System had Arrogate ranked on top and the second and third place finishers were tied for second. My new Power Pace Figures showed that Arrogate also had a huge Late Power Pace Figure of 137, indicating that he would have the most left in the stretch. He drew off to win by 13 1/2 lengths.
The Diamond System Printout for The 2016 Travers Stakes

The Power Pace Printout for the 2016 Travers Stakes

Tampa Bay, Saturday, January 18, 2014
In the 5th race at Tampa Saturday, Eight Riders had a Diamond Rating of 111, which was a huge 22 point advantage. Note that he also had the best (lowest) Diamond Pace, and Diamond Speed, and the best (and highest) Formula Power. (The Formula is an older system I developed.). Another interesting factor, note that the Diamond Energy number (DI EG) is 32.2. That is the 2nd highest energy number in the race and in route races, high energy is a good thing, this means that the horse will have more left for the finish.

Oaklawn Park, Sunday, January 19, 2014
On Sunday at Oaklawn, in a claiming sprint, Almighty Storm had a 1 point advantage with a solid 11 ESR (early speed rating) and won and paid $62.20.
Below is a printout from Churchill Downs from May 26, a $34.60 winner in a small field and the exacta paid $74.00, COLD. Notice that in this 6 furlong race, Whispering Wisdom had a nice 6 point advantage with a Diamond Rating of 81.

Below is a printout from Belmont, June 27. Thomas Hill won and paid $41.60 on turf. Another Diamond System top pick longshot.

The Diamond System has picked tons of Boxcar Longshot winners over the years. Here is one of my best scores, which I gave out to my Sharphorses Selection customers and actually posted as a Free Pick on this page. This was in the Breeders Cup turf when Better Talk Now won with Ramon Dominguez and paid $57.80. Notice that the Kick Rating is 118, one of the best in the race, and the horse has the best Diamond Rating (107) and is tied for the best Diamond Speed. Diamond Speed combines final time with late kick, Formula Kick is best closing speed. Formula numbers the higher the better, Diamond Ratings the lower the better.

Below we have a Diamond System printout from Tampa Bay on Feb. 18, 2012. This gives you a good idea of one of the ways that you can use the system. In route races, the Formula Kick is a strong rating. This is also a very good rating for turf races. Here you see a horse, Gold Brew, that had a Formula Kick Rating of 113, which was 9 points better than any other horse in the race. This is a strong rating. The top ranked horse on Diamond Rating, Secret Commander, was a clear choice with a rating of 104, which was a strong 19 points better than the next ranked horse. In a route race, this was an obvious exacta box. As you can see below, the 3-6 exacta paid $57.60.

Race:
11
Win
Place
Show
1st
3
Gold Brew
15.60
7.40
5.40
2nd
6
Secret Commander
4.20
3.00
3rd
10
Panama Hat
4.40
4th
7
Well Excuuuze Me
5th
9
Chillin Dylan
$2 D/Double
1/3
396.20
$2 Exacta
3-6
57.60
$2 Trifecta
3-6-10
349.60
$2 Superfecta
3-6-10-7
1663.00
Below we have a race from Oaklawn Park, Saturday, Feb. 18, 2012. This is a sprint. The top ranked horse is Biker Boy with a strong 71, 11 points better than the rest of the horses. Biker Boy also has the 2nd best ESR (EARLY SPEED RATING) which is the dynamic early speed rating that is built into the system. The 9 horse, Rare Lukey, has the best ESR of 10. As you can see, all of the other sprinters in this race have much lower ESR's. Again, this was an obvious exacta play and in this case, an easy trifecta. the exacta paid $63.20 and the trifecta paid $490.60.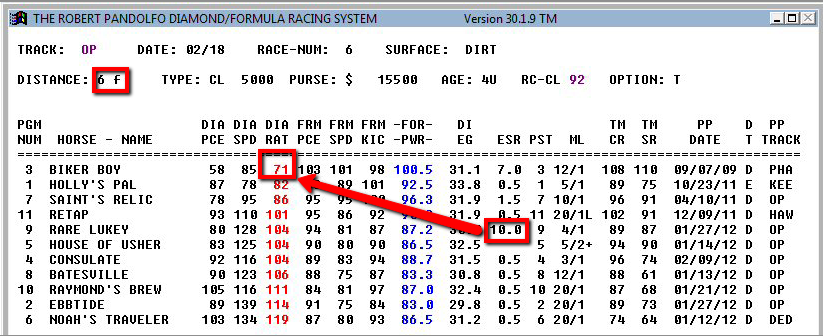 Race:
6
Win
Place
Show
1st
9
Rare Lukey
16.40
6.40
4.00
2nd
3
Biker Boy
4.80
3.40
3rd
1
Holly's Pal
4.80
4th
4
Consulate
$2 Exacta
9-3
63.20
$2 Trifecta
9-3-1
490.60
$2 Superfecta
9-3-1-4
1285.80
Refunds:
8
Below is another race from Oaklawn on Saturday, Feb. 18, 2012. The top three horses ran 1-2-3 and the top two ran 1-2. The exacta paid $308 and the trifecta paid $990. Sometimes there's no sense over thinking it. Slamit was ranked 1 point below Moonrush but went off at 22-1 and paid $46.20.

Race:
8
Win
Place
Show
1st
7
Slamit
46.20
15.00
5.40
2nd
2
Moonrush
6.60
3.60
3rd
6
Downtown Ghost
2.40
4th
4
Vindication Now
$2 Exacta
7-2
308.60
$2 Trifecta
7-2-6
990.00
Copyright Pandymonium Publications.
For problems or questions regarding this web contact
[pandyspicks@yahoo.com].
Last updated: February 22, 2013.