Handicapping Systems and Methods by Bob "Pandy" Pandolfo
There's a 30 day money back guarantee and $5.00 restocking fee on all systems and books
We use Paypal to process all online orders. Paypal is the most widely used money transfer and payment company on the internet. There's no cost to use Paypal when you make a purchase, sign up is easy and free. Paypal allows for credit card purchases, or you can a checking account.
If you prefer to pay with a check or money order, click on this link http://www.handicappingwinners.com/order.htm or call us at 610-502-0405 with a credit card.
| | |
| --- | --- |
| | DIAMOND SYSTEM for thoroughbreds, Trackmaster Version 35.1.1, computer program |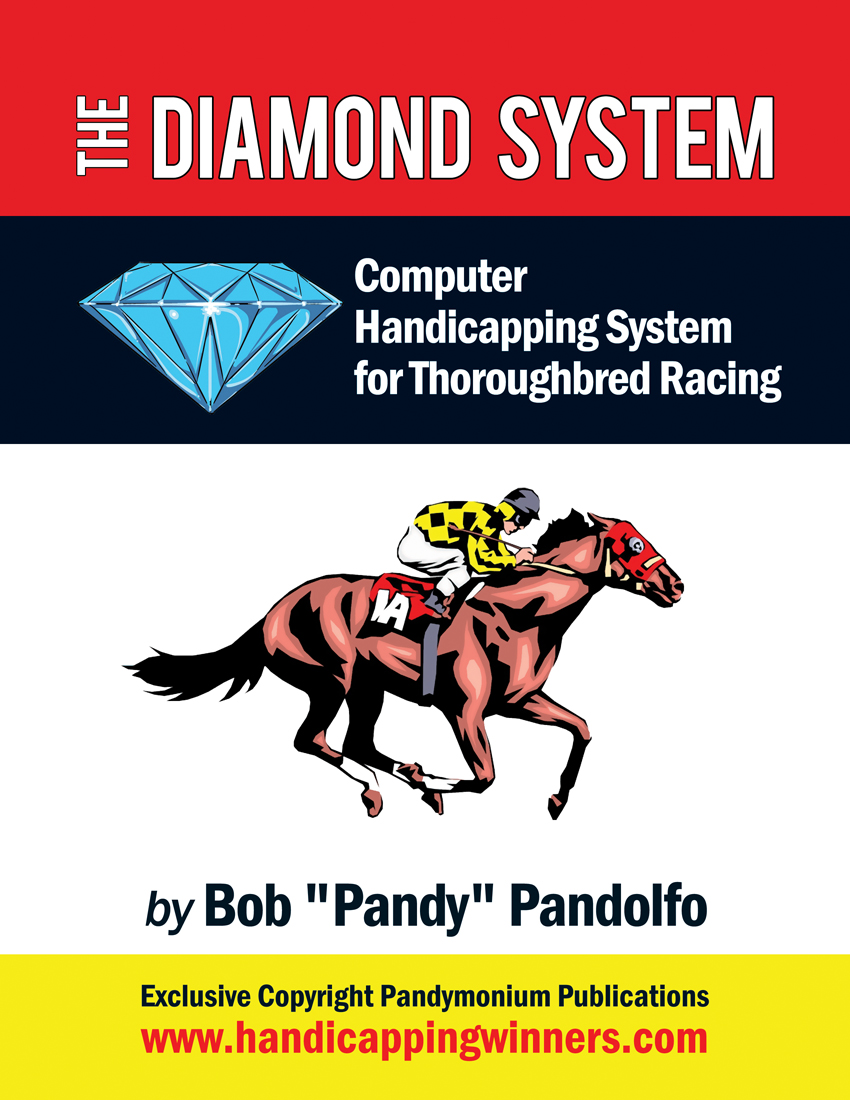 The Diamond System for Thoroughbred racing is a handicapping system that comes on CD and works with any type of windows system. The Diamond System works with TRACKMASTER .EXE pp files (www.trackmaster.com) or you can purchase the Bris version which is right below this. The same file can be used to print past performances with Trackmaster's free past performance software. This system comes with 5 automatic paceline options, so the system basically does everything for you. You can run a card in about a minute! The Diamond System is actually two systems in one, because you also get THE FORMULA, an older Bob Pandolfo system which compliments The Diamond System. All in all, you get 9 unique ratings, DIAMOND PACE (early speed), DIAMOND SPEED (late kick and final speed), DIAMOND RATING (ranking number, the ultimate rating), FORMULA PACE, FORMULA SPEED, FORMULA KICK (great for turf races and all routes), FORMULA POWER, and the all-new ESR (EARLY SPEED RATING). The Diamond System also includes a Consensus Matrix box feature which gives you top 3 in several categories, including Early Speed and Late Speed, both potent longshot factors. We offer full email and telephone support if you have questions. Set up is a cinch. The cost of THE DIAMOND SYSTEM for thoroughbreds is $119.97 and now comes with free shipping and instructional booklet plus a free copy of The Profit Zone money management method. Upgrades, which are usually available once a year, are only $22.00. Please email us at pandy@sharphorses.com if you want to upgrade.
Trackmaster Version 35.1.1, newly updated in September, 2017, click on Buy Now button below to order. Now includes (free) The Profit Zone money management method. $119.97 includes free shipping.
DIAMOND SYSTEM for thoroughbreds,
Brisnet Version 31.1.1a, newly updated in September 2017, $119.97, includes The Profit Zone money management method and free shipping.
This is the same system as the Trackmaster version, but it works with Brisnet multi data files which are available from www.brisnet.com. Now also includes for free The Profit Zone (PZF) money management method.
DIAMOND SYSTEM Harness Racing Version 20.1.5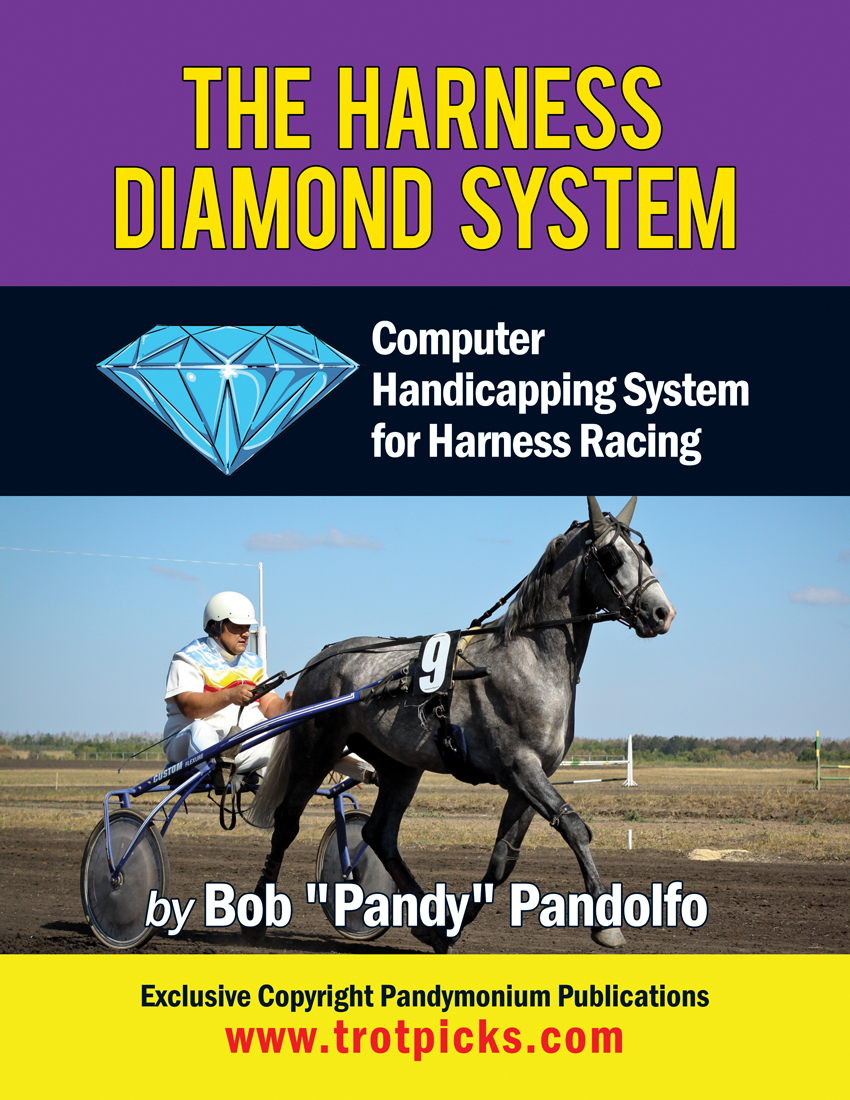 The Diamond System for Harness Racing uses exe pp files from www.trackmaster.com. This potent pace handicapping system quickly pinpoints the fastest horses, the best closers, and the best early speed horses. For more information or to view actual printouts, go to http://www.trotpicks.com/printouts.htm. The system comes on a CD and works with all WINDOWS systems, and includes an instructional booklet, and a free bonus booklet, Money Angles & Methods - The Thinking Man's Guide to Money Management for the Harness Diamond System.
DIAMOND SYSTEM Combo Offer (thoroughbreds and harness) $149.99
You can order both the thoroughbred and harness version by clicking on the Buy Now button below. This is a great value, comes with the same free shipping and all booklets including a free copy of The Profit Zone money management method for thoroughbreds and free copy of The Thinking Man's Guide to Money Management for the Harness Diamond System. Just make sure that you email us or specify which thoroughbred version you want, Trackmaster or Brisnet.
DIAMOND SYSTEM Combo flats and trots $149.99
The Speed Shape '08 Harness System (pen and paper)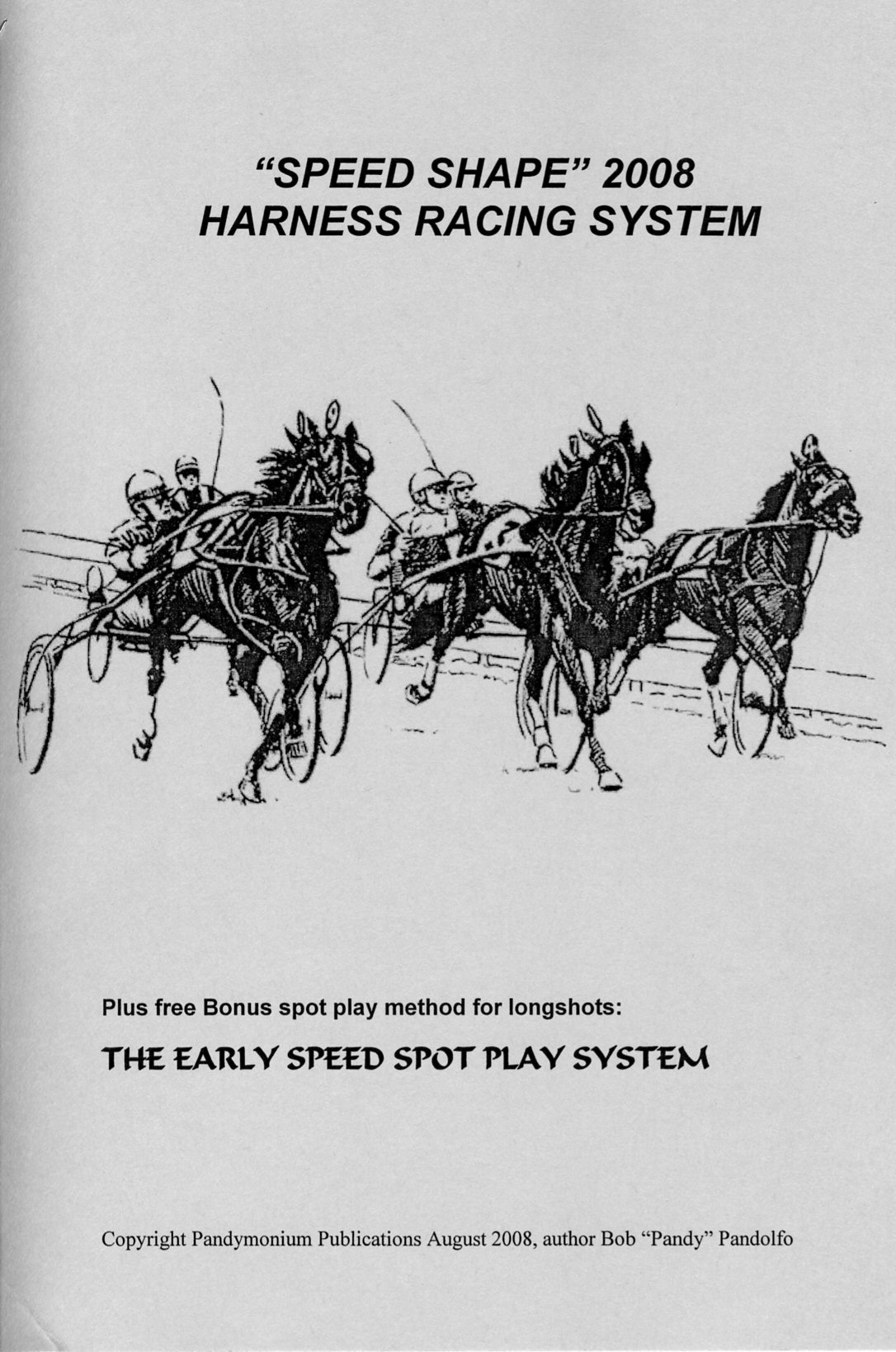 The Speed Shape Harness Racing System is a point system that requires past performances, preferably with speed ratings, and is an easy to use Paper & Pen system, no computer needed. It comes with a free bonus spot play system, The Early Speed Spot Play System, which is included in the same booklet at no extra charge. The Speed Shape System combines Speed and Pace with Form, Class and Position. It includes my FORM POINTS QUICK GUIDE and also shows you how to use Late Speed. The booklet also includes a Bonus spot play method for longshots, The Early Speed Spot Play System.
TROTPICKS: Modern Harness Handicapping Methods ($30.00 for PDF only)
This 126 page paperback book by Bob Pandolfo is not in stock and only being solid in PDF form via email now. The book features the powerful BRT harness handicapping method, which is easy to use and explained in step-by-step instructions. The book also covers various spot play angles plus potent harness handicapping methodology pertinent to today's fast-paced harness racing. To order click on the Buy Now button below. The book will be shipped by first class mail. For more information on the book, you can go to http://www.trotpicks.com/trotpicks_book.htm.
The PRO SIMULCAST SYSTEM (Thoroughbred Handicapping Spot Play System). Revised, PDF only now.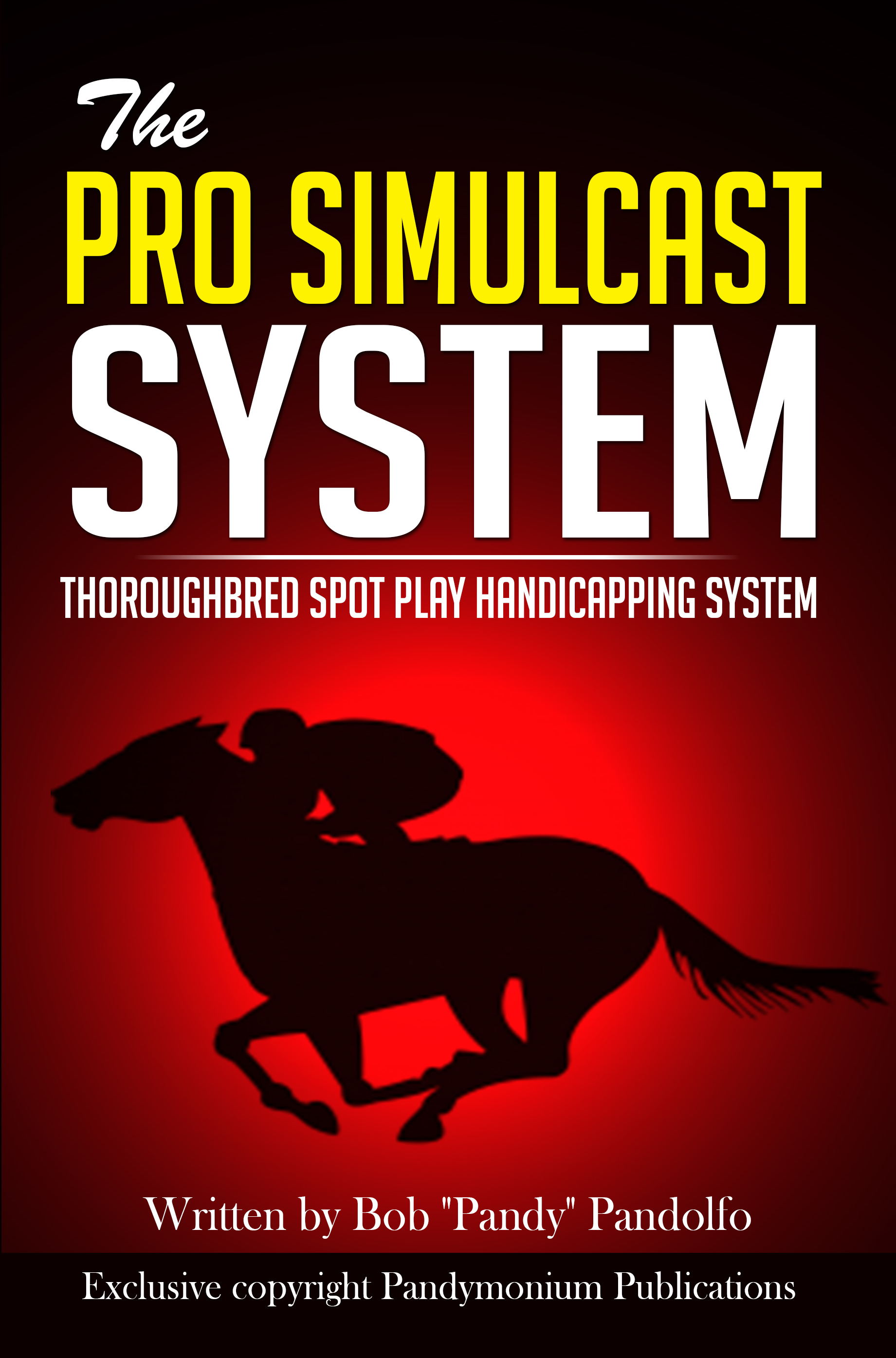 The Pro Simulcast System is a spot play system based on class and pace. It is without a doubt my best paper and pen system that I ever developed. I revised it and updated some things, and published it in a paperback book for the first time but it's now out of stock so I've decided to sell it as a PDF. I use it every day and I make a profit betting horses (I also give out some Pro Simulcast spot plays on my Sharphorses Selection Service, from handicappingwinners.com). Part of this system (the maiden claiming section) was run through a huge computer database and broke even without even using all the steps or any odds requirements, just the basic rules. The gentleman who tested it for me told me that he's tested hundreds of systems over the years and only one other tested as well as this one.

Some of the good things about the Pro Simulcast system, A). It's quick and easy to use. The reason why I named it Pro Simulcast is because it's perfect for when you're at the simulcast parlor, you can quickly scan through the past performances for all tracks in a few minutes. B). When I developed and tested this method, it opened up my eyes to powerful handicapping truths that I did not know at the time. For instance, class is so important in horse racing that horses that maintain a certain position in the running lines are dangerous next time out (at the right class) even if the fractions or pace figures are not that good. The price is $20.00.
Pro Simulcast is available in PDF form for $20.00. It will be emailed to you within 8 hours.
Pace Handicapping Longshots (PDF) by Bob Pandolfo (paperback book is sold out but I have reduced the price and the book is available in PDF form for $20.00.)
This 45 page book came out on December 15, 2012. This is my personal pace handicapping methods that are dynamite for spot play handicapping and picking longshot winners. I also review other methods such as the Diamond System and ESR. Included is the easy to use step-by-step "Pace Shape" Spot Play Selection Method.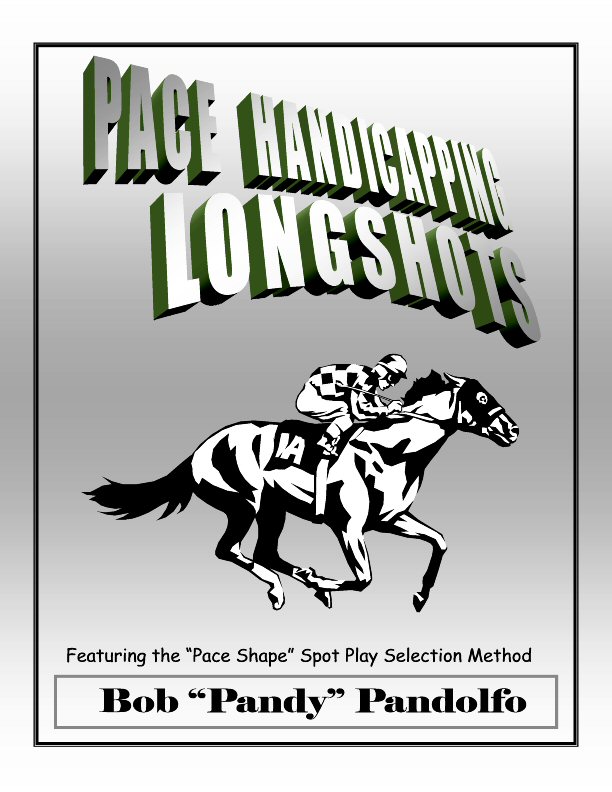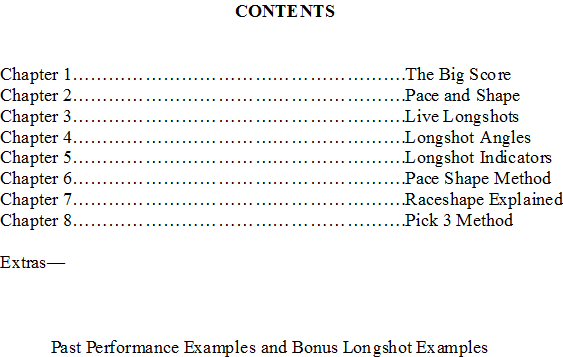 Real Time Handicapping book and software (cd). This is all new as of January, 2019. The included handicapping software system works with brisnet single data files. To view printouts and more info, click on the Real Time link at the top.
Real Time Handicapping is my latest handicapping program, and book. Real Time Handicapping features several unique ratings, including Main Track Speed (for when races are washed off the turf), Average Speed, Late Pace, Total Pace, Class Rating, and Power Prime. These ratings are an average of three races using my own formulas. The 50 page book that comes with the software shows you exactly how to use the ratings to handicap any type of race, and how to find longshot spot plays and good bets. This is the most accurate handicapping method I've come up with. It gives a handicapper a quick look at the field and shows the horses that have form, class, early speed, late speed. The compounded ratings are based on three recent races and are excellent "ability ratings." As of September 2019, two new ratings were added, Total Early and Pace Class.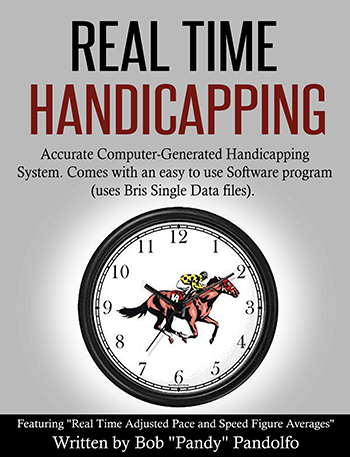 FORMULA PRO V 4.4 - All New Handicappping Software System, works with Brisnet Single Data files.